Sound Views
#56, August 2000
NEW YORK, NY
LITTLE JACK MELODY & HIS YOUNG TURKS
NOISE AND SMOKE
(CD- Kilroy Records/PO Box 1065/Denton, TX 76202)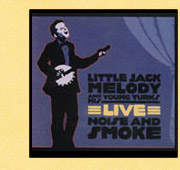 LJM's fourth record is a live one, recorded close to home at Dan's Bar, a nightclub in Denton, TX. The sixteen tracks are divided between new songs and old, and all of them are steeped in the Young Turk tradition of pressing cabaret jazz into Silly Putty and stretching the image until it's funny, grotesque and utterly transformed - in that order.
Much of it is a send-up of lounge, but not American lounge like lizard-king John Lurie. Noise and Smoke has a more European flavor, especially on covers like Doug Frantz's "Bela Lugosi…the missing years," Lauren Agnelli's "J'ai Faim, Toujours," and the Brecht/Weill singalong from hell, "Alabama Song."
The Young Turks change personnel with the wind, and this lineup is very strong in straight-ahead jazz, with vigorous soloing by Jacob Duncan on sax and Brad Williams on piano. Drums and upright bass provide the dizzy array of rhythms, with Little Jack himself at the center, banjo in hand, delivering his measured, almost hesitant vocal throughout a set list that seems chosen by someone with a multiple personality disorder.
The band takes chances that would make a trapeze act faint, jetting in hyperdrive one moment, then slowing the tempo to a dirge the next – never too shy to annihilate a hushed moment with some truly noisy skronking. Their rapport with the audience is a good one, with admiring applause breaking out spontaneously after a number of solos.
Little Jack does a splendid reworking of Peggy Lee's proto-angst masterpiece, "Is That All There Is?," complete with updated monologues. And who else would dare cover Slade's "Cum On Feel The Noize" as an outtake from Cabaret, and segue into "Tomorrow Belongs To Me"?
- Mark Keating