"Noise & Smoke" - Reviews
THE WICHITA EAGLE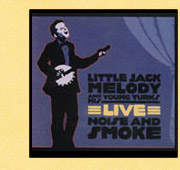 Wichita, KS
SUNDAY, NOVEMBER 21, 1999
LITTLE JACK MELODY AND HIS YOUNG TURKS
"Noise and Smoke" (Kilroy Records)
• • • • (out of four)
If you simply listen to Little Jack Melody and his Young Turks, you may end up confused by the carousing. But if you make an effort to experience his music, Melody will take you on a whimsical yet wry tour of fairy tales, ballads, and tangos.
I thought this eccentric jazzman had nowhere to go but down after he released his third album, the enchanting "My Charmed Life," in 1998. But Melody took another giant step on the gangplank of the bizarre with the live "Noise and Smoke."
Melody, whose supporting cast comes and goes with the wind, weaves carefully chosen lyrics in a decidedly post World War I cabaret sound, complete with cornet, banjo, basses, saxes, clarinet, percussion, piano and "other sounds." Melodyís fun with his music is made more evident as he works the crowd in a "not-oversized" bar in Denton, Texas.
The Sinatra-esque Melodyís stories range from the melancholy fairy tale "Out of the Woods," where Sondheimís "Into the Woods" meets Johnny Otisí "Harlem Nocturne." On "Happily Ever After (West of Eden)," Melody has some fun with Sinatra as JesusÖcreating Peggy Lee and Bobby Darin. Melody goes on to the breathy cabaret "A bottle full of snake oil," a poke at Madison Avenue resulting from one of his own sour experiences.
"Separate Vacations" has us peeking at a couple with "inseparable, vagabond hearts" who travel the same paths that never cross. And on the comically serious "The Devil Gets His Due, or, America vs. the International Drug Cartel," Melody takes a shot at our countryís drug-fighting efforts, to the Western beat of "Ringo" combined with "Rawhide."
The cabaret-cum-jazz music alone makes this worth a listen. Add the sly lyrics and youíll have a spinning carousel. But once you hop on, youíll see itís one piece. But you have to pay attention.
-Kevin Sheedy
---------------------------


September 23-29, 1999
Little Jack Melody
and His Young Turks
Noise and Smoke
(Kilroy Records)
Maybe Little Jack really does like to keep his Turks young: By his count, he has burned through 19 full-timers plus "a dizzying assortment of occasional subs." Sound like Menudo to us. That, or Melodyís devotion to all things Brecht and Newman has made him a hard man to work for, if only because there probably isnít much money to be made singing songs about invading Switzerland or performing bossa novas about couples taking "Separate Vacations." Almost a decade on, and still thereís no better lyricist around these parts than Melody, who writes songs like a short-story craftsman who sings for his supper. Of course, that will forever doom him to obscurity, since only the cult crowd digs songs that actually say something, that actually mean something with or without the swing.
This live disc, recorded at Danís Bar in Denton, is such a joy to listen to even during its sad-sack and whacked-out moments; listen to it long enough, and youíll wonder why in hell Melody didnít pick up the family long ago and settle in Manhattanís Alphabet City, where such genius is celebrated instead of pigeonholed. Consisting of old faves ("Happily Ever After (West of Eden)," "Jíai Faim, Toujours") and the occasional new tune (including the opener "Out of the Woods," which strives for Sondheim territory and actually reaches the mainland), Noise and Smoke is the rare live album that feels alive. That is, the re-creations of the familiar tunes sound as though they were written during the performances, even the bandís ripped-through run-through of Weillís "Alabama Song." Perhaps thatís the result of having a new band every time he makes a record: they ainít getting bored of the material, thatís for sure. But more likely it has something to do with Melodyís ability to doll it up smarmy or sappy when the time is right without ever overplaying the moment.
And so a song like "Out of the Woods" is either a hopeful meditation on the promise of love ("Better take my hand / Better stay close to me") or a sorrowful expression of its ultimate betrayal ("Candles in windows once led out of the woods".) And "Separate Vacations" is either a coy quip ("He loves the food in Ibiza / She thinks the waiter is coarse and lazy") or the heartbreaking reality of deadpan disappointment ("Youíll see things your way and Iíll see them mine / Separate vacations again"). And the live forum allows Melody and company to play fast and loose with the material, which almost seems to get away from the boys at times. Say, when sax player Jacob Duncan turns notes into cobras during "Happily Ever After," or when Melody does his deeply affectionate Tom Waits impression on "A bottle full of snake oil" and comes up this short of re-creating Waitsí own anti-advertisement anthem "Step Right Up." Docked a point for including "Cum on Feel the Noize," but add two for "Is That All There Is?" Little Jack Melody is Peggy Lee.
-- Robert Wilonsky
---------------------------

September 16-23, 1999


Little Jack Melody and His Young Turks
Noise and Smoke (kilroy records)

Preceding the lounge movement by at least one year and surviving in its aftermath, Little Jack Melody and His Young Turks finally have released an album that captures both the musical mastery of the Denton band and the sardonic wit of its sharp-tongued leader.

The band's fourth disc, Noise and Smoke, is a live offering that vastly outshines its predecessorsčno simple feat, considering that the 1991 debut disc earned rave reviews from everyone from Esquire to Rolling Stone. A sound that has matured and diversified through the years is given extra punch with Melody's between-song patter; he is a witty storyteller, somehow combining the Creation story, the birth of Jesus and Frank Sinatra to segue into the equally eclectic "Happily Ever After (West of Eden)." In "Separate Vacations," Melody effects a lounge-singer style to weave the common but painful tale of a couple living separate lives together.

"Is That All There Is?" is one of three cover songs turned into true originals, in this instance revitalized by Melody's hilariously cyncial diatribes between verses. Ranting about childhood disappointment, bad circus animals and shattered relationships, he points out that for every expectation, there is "equal, opposite and geometrically huger disappointment." Just when it seems that things can't get any more entertaining, the band launches into a balladesque rendition of Quiet Riot's "Cum on Feel the Noize."

In a perfect world, musicians like Little Jack Melody would be playing to sold-out rooms while the boys of 'N Sync stocked the shelves at Pep Boys. But here in the real world, where life simply isn't that fair, at least Melody provides a great soundtrack for everyone stuck in their day jobs.

- Paula Felps