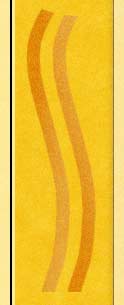 LITTLE JACK
Melody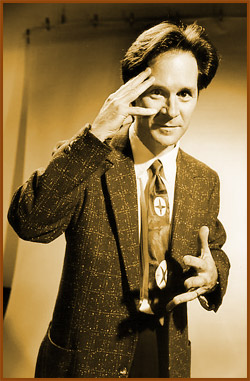 "It was nowhere special, that's for sure," recalls Little Jack Melody of his childhood. "A wonderbread anonymous suburb of Houston, like a 'Leave It To Beaver' pilot that just rolled over day after day after year. And painfully normal-- no one got divorced, everyone went to church."
The first crack in Melody's Pollyanna existence came in the form of a crystal radio kit that he and his dad ("mainly my dad") assembled. "It was really something," Little Jack claims. "The first things I heard were 'Tie Me Kangaroo Down, Sport' and 'Washington Square' by the Village Stompers. Before long it was all Beatles, Beach Boys, British Invasion, and later Cream, Hendrix and prog-rock-- just a beautiful world."
In high school, after a brief season attempting to learn guitar, Melody turned into a bass player when his church choir had an opening for one. Within a year he'd joined his first rock band, playing occasionally at swimming pool Splash Nights, gymnasiumed high school Victory Dances and other school functions. "It was infectious," Little Jack admits. "I made fifteen bucks the first night I played, and went out the next day and bought a record and a hamburger and kept the change."
After a year of tentative college, and another year split between a four month hiatus in London and eight months painting houses back in Houston, Melody decided to major in music composition at the University of North Texas in Denton. He eventually completed his composition degree, after writing, as he puts it, "the requisite amount of atonal chamber music, most of it serial in nature, almost none of it listenable."
During Melody's last two years of college, and then for many years after graduation, he was the bassist for Schwantz Lefantz, an iconoclastic fusion band in Denton. Originally comprised of keyboards, violin, clarinet, guitar, drums, and bass, LJM maintains, "Everything we played sounded like a Jewish wedding in the ballroom next door; except you couldn't dance to it." The band's principal four writers were influenced by Steely Dan, Frank Zappa, Joe Zawinul, and Martin Mull, respectively. "It was a band multiple personality disorder of the first order," Jack laments.
Schwantz eventually morphed into a safer, party-oriented concern, surviving numerous personnel upheavals before beaching itself in the late 80's. Melody was ready for a change, and following a hunch he began to research European cabaret, steeping himself in the history of the phenomenon and listening endlessly to the works of Brecht/Weill, Hans Eisler and others, and noted similarities in the work of contemporary singer/songwriters like Tom Waits and Randy Newman.
Little Jack adopted his current nom de guerre from a Beat Generation minor player, and fashioned LJM and his Young Turks as a protest group on two fronts: first, with its anachronistic instrumentation of harmonium (pump organ), tuba, tenor banjo, sax/clarinet, and Roaring 20's style trap kit, the band was a Luddite response to the age of digital synths and "the mandate of creating every sound under the sun plus a bunch of new ones that we don't even have names for yet"; secondly, many of his original songs shared the tradition of protest and commentary that characterized the spirit of the cabaret movement in Europe.
Little Jack Melody and his Young Turks became a melting pot of its leader's enthusiasms. Jack found inspiration in the confessionals of Jack Kerouac, Charles Bukowski and Tom Waits; he was intrigued by the subtleties of Raymond Carver, Bertolt Brecht and Kurt Weill; he was moved by the sheer power and humanity of Hubert Selby Jr., Henry Miller and Carla Bley; he found metaphors in circuses, Salvation Army bands and Melville.
One of Little Jack's rudest awakenings came with the realization that writing songs, words and music, and the wedding of the two, would be a slow, deliberate process; the songs that evolved into LJM's debut effort, "On the Blank Generation" took well over a year to complete. "Usually a musical idea comes first," Jack says. "Then it's toyed with, squeenched, finagled and incubated for as long as it takes. Some songs happen slowly, some happen even slower. Then I start to work on the lyrics. The problem is, I've got to comb through miles of random thoughts and possibilities before settling on the one and only thing that the song should be about. It may take ages."
"On the Blank Generation" was released in 1991 and met with conspicuous critical acclaim. Effusive reviews rolled in from "Musician," "Rolling Stone," Kurt Loder in "Esquire," "Keyboard," "Texas Monthly," and elsewhere. In something of a major coup, National Public Radio's "All Things Considered" did a feature spot on the band and the CD, giving LJM even more national exposure.
1994 saw the release of "World of Fireworks," which managed to elude critical notice almost entirely. "my charmed life" was unleashed in 1997 and marked a turning point in the band's evolution, a transitional period that saw the departure of tuba, its replacement with upright bass, and a more open-ended approach to instrumentation. "I decided to let the songs call the shots on that CD," LJM suggests. "If it said, 'gimme some field bells,' then we found it some. If the song said, 'I really need a couple of suspended Chinese tam-tam googongs and an analog synth,' then we brought 'em in."
A live album, "Noise and Smoke" was recorded at a club in Denton and released in 1999. Harnessing the live energy of the band, complete with between-song banter and various spontaneous serendipities, the CD comes close to representing the genuine article.
The band's personnel has been in a near-continual state of flux, with Young Turks coming and going with maddening regularity. By today's count, there have been at least 28 full time members of the band, and a full reckoning of occasional subs might yield a head count of another 25.
At present, Little Jack is experimenting with a scaled-down approach to his music. "Right now I'm playing bass, Brad Williams is on all sorts of keyboards, and Don Cento has joined on guitar," Melody reports. "First time I've had a guitarist in the band, and it's really pretty cool. Maybe that's why every other band in the world has one. Man, if I'd only known…"