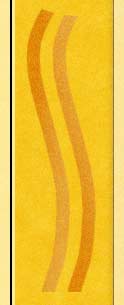 HISTORIC
Young Turks
Former Young Turks

Jeff Curry
Bass
Upright bassist Jeff Curry, 23, is a native of Lewisburg, West Virginia. The musical magnet that is the University of North Texas pulled him to Denton in 1998. A bass player for 10 years, Jeff gigged for a steady year-and-a-half at the famous Greenbrier Hotel, playing just about every song you've ever heard, whether you wanted to or not; for that matter, he's played pretty much all over the east coast.
The self-described "poor as hell" doghouse maestro is a jazz composer in his own right, and leads a sextet when he can find the time. A long-standing fascination with the Orient has led Curry to learn Japanese, which he speaks without a trace of a West Virginia accent. An active aversion to playing pop music has led him to playing creative music with LJM and the rest of the Young Turks. It's probably worth mentioning that he drinks too much coffee.
---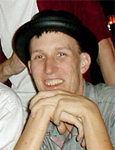 Christian Parkess
Saxophones
Christian Adam Parkess was born during the notorious blizzard of '77 in Morris, IL just outside Chicago; his mother went to the hospital on a snowmobile. He moved to Dallas at the age of three, and started playing the saxophone at thirteen. Christian studied music at Dallas Arts Magnet High School, and steeped himself in Beat literature, Henry Miller, Baudelaire, and Rimbaud.
After graduation he received a full tuition scholarship to the New School for Social Research in NYC. He studied for 2 1/2 years at the New School with such teachers as George Garzone, Billy Harper, Chico Hamilton, Charlie Persip and Reginald Workman. Christian also performed with various jazz groups around the City, including shows with the late drummer Dennis Charles' quartet.
A short six months in San Francisco, a long three months on a cruise ship, nine months of night shift cabdriving in Austin eventually created the newest Young Turk.
---

Danny Lueck
Drums
The latest Turk in the fold, Danny Lueck hails from the great state of Wisconsin, renowned for Packers, cheese curds, and tappers. He began playing drums at age 10, and became a club-playing musician by ninth grade. Lueck attended private Catholic parochial school for twelve years, which he surmises may account for "a fascination with poop". (?)
Having received a Bachelor of Music degree in percussion performance from the University of Wisconsin in 1998, Danny moved to the Dallas area to pursue a Master's in Jazz Studies at UNT; he studies drum set with Ed Soph.
A marvelous drummer with a wry, inscrutable sense of humor, tub-thumper Lueck says he "enjoys sleeping and time with wife," in addition to "mentally manufacturing worst case scenarios involving emergency poop situations..."
---

Victor Anderson
Soprano, alto, tenor saxophones, bagpipes
Vic Anderson, that beloved "saxboy" from Tulsa, Oklahoma, insists that there is life after the Young Turks. A University of North Texas College of Music alum, Vic's true love is jazz. But, besides teaching sax, occasionally sitting-in with the likes of Sandi Patti, or the Temptations, and making his mark on Tulsa's jazz scene with V.A.Q (his eponymous jazz quintet) he finds plenty of time in between to concentrate on the "meat 'n' potatoes" of his musical career: playing the bagpipes!. One of the earliest Young Turks, you can hear him teaching an old reed some new tricks on a rare Tales From The Edge compilation CD (volume 4). Also, you can SEE him in the band photo accompanying the article by Kurt Loder, which appeared in Esquire.
---
Norm Bergeron
Contraption kit, percussion, dodge
One of Maine's greatest exports, Norm Bergeron proves that with enough lobster, steamers and innate polyrhythmic abilities, any boy from the "Fish-eating State" can grow up to be an exemplary musician. Although, his accomplishments are too numerous to list here, it should be noted that Norm has thrilled listeners around the globe. Norm is pursuing a graduate degree in ethnomusicology. In addition, he continues to sound the mystical depths of the inscrutable Dodge Van.
---

Steve Calhoon
Contraption kit, percussion
One of the original Young Turks, Steve appears on On the Blank Generation and World of Fireworks. A much-lauded veteran of the Denton scene, he now holes-up in Hell's Kitchen, feeling the angst of the city, playing drums with NYC's Skeleton Key, (Rykodisk recording artists) Mono Puff and (unsigned) The Humphries, and presumably bending the city to his will.
---
Jim Cocke
Hammond B-3, harmonium, piano, accordion
You can't throw a stick in Dallas, without striking a musician who has either A) performed with, B) recorded with, or C) admired Jim Cocke. A big-wig at Crystal Clear Sound in "Big D," his credits include stints with David Garza; Mildred; About Nine Times; Sara Hickman; Jack-O-Pierce; Jack Ingram; and the list goes on.... when he was a Young Turk, Jim piloted a scaled-down Hammond, the first YT to do so. A highly spiritual young man, this great, soft-spoken Young Turk considers his good fortune to be a blessing, bestowed upon him by his maker, and while performing good works off -- and on -- the stage, Jim Cocke continues, by dint of his skill and character, to garner tremendous respect and praise, from fans and colleagues alike. He appears on the 1997 LJM release, "My Charmed Life."
---

Dave Dorbin
Tuba
One of the original Young Turks, Dave appears on "On The Blank Generation," "World of Fireworks," "My Charmed Life" and on every (unreleased) live or studio recording of LJM&HYTs, up until his departure for the gray, spectral anonymity of NYC in 1998. Dave is a native of Maryland's eastern shore and Santa Fe NM: from the outset, Dave has been the huge, warm, bass voice of the Young Turks, an excellent driver, and Little Jack's longest-standing cohort.
---
Jacob Duncan
Saxophones
A native of Louisville, Kentucky, a giant amongst musicians and humans, this "phenomenal saxophonist" completed his studies in music and psychology at the University of North Texas in 1999. After recording the live CD "Noise and Smoke," he left the country for a peripatetic, nomadic existence in Europe, where he busked, backpacked, and ambassadored. Now residing in Long Island City, NY, he continues to pursue music with his longtime, ongoing project, Liberation Prophecy. A curious aside: at least one medical professional has pronounced Jacob to be mildly psychic, and displaying "unusual mental powers." (He just may cross your path when least expected, where least expected. I'm not making this up.) He also figures prominently on the 1997 LJM, "My Charmed Life."
---

Scott Jacob Loehr
Harmonium
Scott, another original Young Turk, is able to recite any tune upon request, able to sing out any note with perfect pitch, and able to punctuate any utterance with a perfectly priceless pun. This composer/pianist is currently writing his first symphony, having already recorded two solo CD's, as well as numerous commercials, jingles and industrial applications. A wit of legendary status, Scott polishes his stage persona before patrons of fine dining establishments, in the greater Dallas area. And, given this man's tasty styling and delicious repertoire, it's no wonder that the crowds eat him up....eat him up....(Get it?) Hear him on On the Blank Generation.
---

Chris Michael
Drums
Enigmatic best describes this very private, yet warm Columbus, Ohio native. A beautifully disarming smile, in addition to a totally relaxed stage persona, belie the energy beneath the surface of this very accomplished musician. From the Dallas Opera to the Aspen Music Festival; from the Richardson (Texas) Symphony Orchestra to Denton's Sand; this master of music mixes sensitivity, authenticity and sheer "chops," in carefully measured proportions, no matter what the situation. Although Chris keeps his own council most of the time, he speaks volumes about taste, groove and excitement when he's behind the kit. You can hear him on 1999's live CD, "Noise and Smoke"; he's currently pursuing his muse in NYC.
---

Jerome Rossen
Harmonium, piano, accordion
"Jerry" Rossen, jazz pianist, composer, singer, humorist, heart-throb: who can resist this man's style, wit and talent? A native of Akron, Ohio, Mr. Rossen contributed to the Young Turks as a performer, touring several times with LJM in the east, and as a stylist, bringing a fresh, explosive jazz flavor to the ensemble. Jerry's outstanding talent was captured on tape, both in the studio in Nashville, live at the Alterknit in New York City (let's hope those recordings see the light of day...someday), and at Fish Trap Manor Studios for use on the compilation CD, Dallas' Scene, Heard . And of course, he contributed greatly to the most recent LJM release, "My Charmed Life." He now lives in the city and by virtue of his tremendous abilities keeps the competition very, very nervous.
---

Lee Schloss
Saxophones, clarinet
Lee , a graduate of University of North Texas and of the Royale Conservatior du Musique in Brussells, appeared on On the Blank Generation. He now free-lances in Dallas, and says "you can find me every Sunday in a salsa bar." He has studied sax with Jim Riggs, Elie Apper & Francois Danieels.
---
Mark Spicer
Harmonium, piano, disembodied falsetto
After retiring from the Young Turks, Mark - another original YT -- ascended quickly, in an ever-expanding gyre of academia, soon arriving at the lofty environs of the Yale University Department of Music, where he completed his Ph.D. in 2001 with a dissertation on British pop and rock music in the post-Beatles era. He is now a professor of music at Hunter College and the Graduate Center, City University of New York, where he enjoys considerable stature as a rock music theorist. Mark also tears it UP with New Haven's own "electric R&B" band, The Bernadettes, and tries heroically to fend off recurring bouts of "Monkey Boy Syndrome" (a curious physical anomaly in which the legs lock in a straightened position, the fists clench tightly, the upper torso and arms flail about most uncontrollably, and the face takes on the expression of a yob; in all, a spectacle both pathetic and hilarious). You can hear Mark on both On the Blank Generation and World of Fireworks.
---

Mike Stinnett
saxophone, clarinet, castanets
An oddity, devoid of persona, excruciatingly timid, obsequious, the "Zelig" of the YTs: Stinnett, upon exposure to the music of Little Jack Melody, forsook the rigid constraints of the classical training which had, up to that point, marked his style, and (at the suggestion of Mr. Melody) embarked upon an in-depth study of vaudevillian saxophone, mastering such effects as the horse laugh, and the chicken cluck. The psychological ramifications of this radical departure from acceptable style was, perhaps, too much for the introspective recluse. Last reports place him somewhere in the Pacific Northwest, preparing a paper which seeks to describe 3-bedroom, 2-bath, split-level home construction in terms of sonata form. Our prayers are with him. You can hear him on World of Fireworks.
---

Lee Tomboulian
piano and accordion
As a pianist, Lee has performed in Paris, Nagoya and Nagasaki, Japan, and all over the U.S., with Steve Allen, Bob Hope, Pharoah Sanders, Larry Coryell, Eddie Harris, and Sheila Jordan. Lee toured the West Coast with Little Jack Melody and his Young Turks, opening for Cab Calloway at the Seattle Opera House; played with Brave Combo at Lincoln Center; accompanied the legendary Tiny Tim at Club Dada in Dallas, and played with bassist Steve Swallow and trumpeter Doc Cheatham at the University of North Texas.
Lee composes for the notably insane Latin-jazz ensemble Circo.
---
Young Turks Emeriti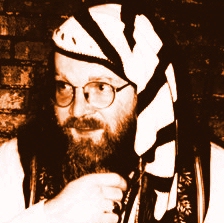 A renowned guru of the sax, clarinet, harmonica and sundry other wind-blown instruments, Mr. Barnes appears on On the Blank Generation, and in the capacity of confidant, advises LJM in all things recondite.
---

"Grammy Nominee," "super-star," "genius,"band leader, mentor, icon and staunch vegetarian, Mr. Finch appears on both On the Blank Generation and World of Fireworks, as both performer and producer.
---
A member of Grammy nominated Brave Combo, Bubba appears on On the Blank Generation, and - by virtue of his singular presence as an artist and musician - should be listed among the treasures of this nation.
---
A true multi-instrumentalist, Mr. Marine appears on On the blank Generation. Formerly of Brave Combo, and until recently drum-punisher for the band Tripping Daisy. Mr. Marine also did time with Billygoat, and -as bassist - with Jack Ingram.
---
Honorable Mention

Chris Sipe
Drums, Percussion, Mac
Chris toured the Pacific Coast with LJM in 1996, rocking audiences in Seattle, Eugene, San Francisco, Los Angeles and San Deigo. Chris was also behind the kit at the world premiere of Love is a Place, the theater piece by David Ossman, based on the life of e. e. cummings.