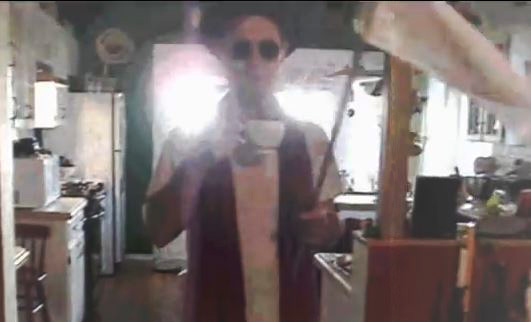 DATELINE DENTON, TX, 01/01/15:
STOP THE PRESSES THIS JUST IN SHATTERING NEWS AS THE WORLD GASPS—LITTLE JACK MELODY LEAVES BRAVE COMBO AFTER NEARLY 6 YEARS ON THE FORCE, RETURNS TO LJM MUSICAL SELF IN A GRACEFUL SWANDIVE AND PHOENIXES BACK TO FORM, OH THE HUMIDITY!
Well yes. Rumors have percolated that I've left Brave Combo, and the rumors are true. I gave several months' notice, offering to play out through the end of 2014, and so I did. The last gig I played with the band was at the end of December.
Some have asked me "why would you quit Brave Combo?," and many others have not. The short answer is that a) I was ready to move on and return to my own musical life, b) the vaguely tabloid-esque "irreconcilable artistic differences," and c) diminishing fun factor.
All the best and nothing but the best to Brave Combo as it evolves in the new year, and I'm sure it will move from strength to strength, as has always been its habit. Adios, and thanks.
So now I'm back full-time to developing and re-inventing Little Jack Melody. ASAP I'll be pumping away at the harmonium drawing board, writing new songs and exploring new directions. And old directions too, come to think of it.
In other existential news, Little Jack Melody and his Young Turks do have three upcoming gigs on the nearby horizon, each worthy of your consideration.
Be aware of these things:
1) Thursday, February 19, 2015—Little Jack Melody will be playing at Dan's Silverleaf right here in Denton. We're a musical event of the Thin Line Film Fest, Denton's 5-day documentary film, music and photo festival, and we'll be taking the stage around 10 p.m.
On this occasion, look for the deliciously talented Brad Williams on keyboards, the percussive wunderkind who is Arjuna Contreras on drum set, LJM myself on bass of some sort, and singing, AND making a guest star saxophonic appearance, direct from the great state of Austin, is Mike Stinnett, Young Turk Emeritus and general helluvaguy, in all his brilliance. You MUST be there. We'll be featuring many LJM chestnuts from the early years, especially from the first two albums, On the Blank Generation and World of Fireworks. And other surprises.
And this:
2) Sunday, March 15, as part of the 35 Denton Festival, LJM et al will be playing again at Dan's Silverleaf, outside on the back stage, at 2:15 in the p.m. On this occasion, expect Brad Williams as himself, Arjuna Contreras reprising his role as Arjuna Contreras, LJM doing LJM, and Dave Monsch back in the fold as the reedist w/ the mostest. 35 Denton was in a coma last year, and 2015 marks its return to form as the coolest music festival in the coolest music town in America, no really. Come one, come all.
And this:
3) Denton Arts and Jazz Festival, will host LJM on Sunday, April 26th, Courtyard Stage, at 4:30 p.m. Brad, Arjuna, Dave, and Little Jack will be joined by bassist nonpareil Lynn Seaton, one of the eminent dignitaries of the low end anywhere, or anywhere else. This will be Seaton's debut performance w/ the ensemble, and cause for celebration. A world-class dude in all regards. And don't you dare miss it. If you can't make it there's really no excuse, so email an excuse from your parents—you may be forgiven eventually.
So that's it for now, and we do hope to see you all in the near future. 2015 should be a very good year, when I was 17. And now the days grow short. Time's a-wastin'. We will see you soon.
Best to all,
LITTLE JACK MELODY
Denton, TX